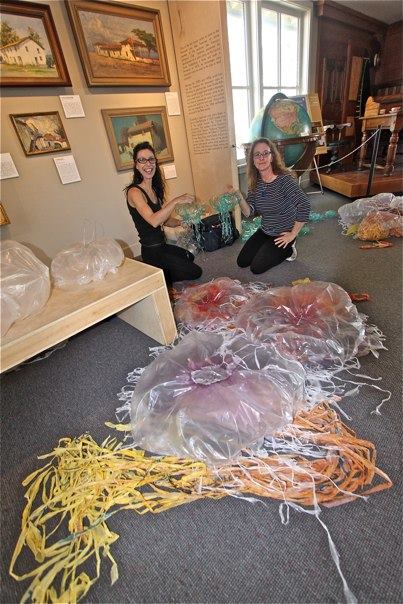 Debbie Solan & Marjorie Pezzoli

Were given the moniker "The Jellygirls" while hanging
an installation at the Muesum of Monterey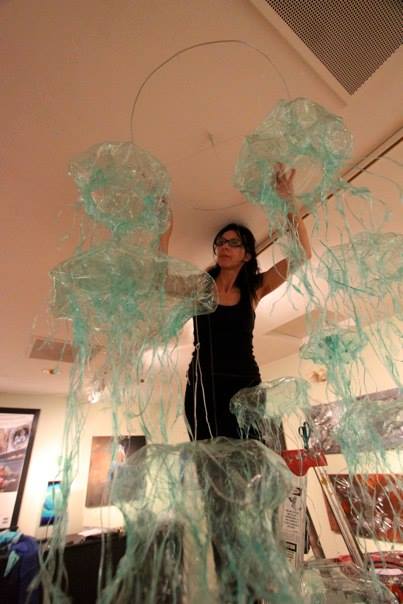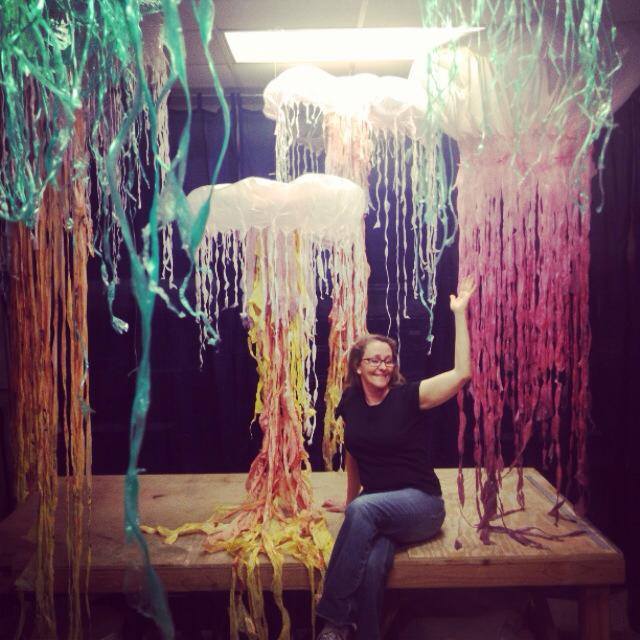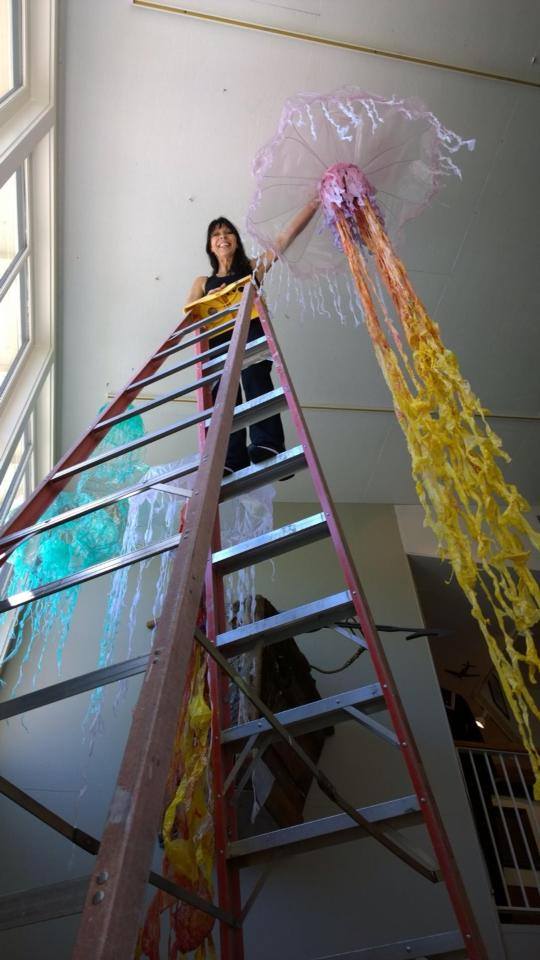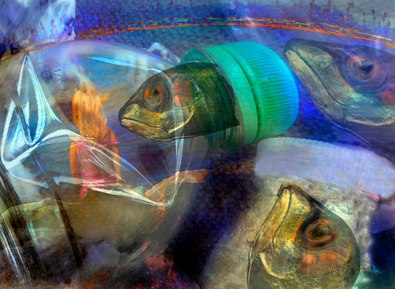 The Jelly Girls continue to spread the word

We are now on to ACT II!
The destruction of our oceans due to escalating plastic pollution, over fishing, and climate change are largely hidden under water, so not visible to the average citizen. Our goal is to (enticingly) make these destructive changes visible, more understandable
and more emotionally connecte to encourage action.

"DNA of Creativity is comprised of four separate projects involving 40 collaborating artists, scientists and educators in effort to promote new ways of viewing the world and enhance the viewer's perception of creativity. On display at the Oceanside Museum of Art through August 4, 2014, this diverse exhibition was the culmination of a multifaceted project initiated by the San Diego Visual Arts Network in 2011."
- Kay Colvin, The Coast News
Team Leader

Kira Carillo Corser
The photos in this album reflect one tiny
portion of one huge project!
"The DNA of Creativity" came from the brilliant mind of San Diego Visual Arts Networks Founder Patricia Frischer. Ms. Frischer is dedicated to growing the arts community and creating collaborations with local business & science.

The "Sea Changes: ACT! Team is one of four teams taking part in the project. Each team consists of a number of Artists and Scientists. The goal of the overall project is to bring collaborations between the arts and science. Fostering awareness to issues affecting our ecosystem, and to instigate innovative research and create positive change.
Addressing the issue of plastic pollution artist Debbie Solan designed these huge installations of recycled plastic "Jellyfish". Team member Marjorie Pezzoli assisted in their assembly and the work was initially displayed at the Museum of Monterey in Northern California.

The intent is to bring a visual aid to the
scientific research, we want you to
"Sea yourself in them."
It is pitiful to see the ever increasing number of juvenile sea turtles dying because they ingest plastics. The juvenile sea turtles eat jellies until they reach maturity at age 4 years. At which time they become herbivorous.

These photos were taken during the installation process between March 6th 2014 and March 8th 2014.
We drove up the coast on a mini adventure that turned out to be epic.


Also a huge big Thank You to the fabulous staff at the Museum of Monterey. They were incredibly helpful, enthusiastic, friendly and knowledgeable. Their willingness to assist in any way to facilitate the installation of this project was more than we could possibly have expected. This, our first "museum" experience was a most pleasant affair from beginning to end. As always the people you meet and interact with are the most important aspect of a project. We couldn't have asked more anything more!
Kira Corser our team leader was a joy to live and work with. Her motivation to do good comes from deep within and is born of the trials and tribulations of a life that would have knocked some of us to the ground. But not Kira. She took it all as a challenge and forged ahead with a heart full of love for humanity and a dedication to leaving this planet a better place. Her knowledge and experience were our guide on this adventure and we couldn't have asked for a better mentor. Thank you KIRA for your beautiful big and loving heart, and for your wisdom ♥